Find Poems!!
NEW!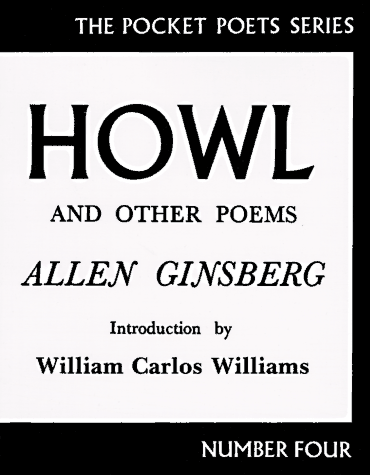 [Buy It!]

Dedication, 1955-56
Introduction, by William Carlos Williams
Howl, 1955-56
Footnote to Howl, 1955
A Supermarket in California, 1955
Transcription of Organ Music, 1955
Sunflower Sutra, 1955
America, 1956
In the Baggage Room at Greyhound, 1955
An Asphodel, 1953
Song, 1954
Wild Orphan, 1952
In back of the real, 1954




---
Journals Mid Fifties 1954-1958
[Buy It!]

A Lion for Real, first draft, 1958
Feb. 29, 1958 (never published)
Haiku (never published), 1955


---


[Buy It!]

War Profit Litany
Hum Bomb!
Crossing Nation
September on Jessore Road
Please Master


---


[Buy It!]

Thank you to the webmaster of Thru the Vortex


---


[Buy It!]

-Table of Contents-
Cosmopolitan Greetings
When the Light Appears
Sphincter


---

[Buy It!]

-Table of Contents-
Those Two
136 Syllables at Rocky Mountain Dharma Center

---


[Buy It!]

(These were probably published in other books before being chosen for "Selected Poems", I just don't know which ones.)

The Lion For Real
Psalm IV
First Party at Ken Kesey's with Hell's Angels


---
Plutonian Ode; 1977-1980:
[Buy It!]

Plutonian Ode
Nagasaki Days
Fourth Floor, Dawn, Up All Night Writing Letters

---


[Buy It!]

Death and Fame, 1997
Five A.M., 1996


---
Interviews
1996 with Gloria G. Brame
With Olaf Tyaransen in 1995. Half interview,
half essay about his life.
With Steve Silberman in December of 1996
Go here for the original interview, on Hotwired.
Allen Ginsberg writes about "Howl"
Canadian Broadcasting Corporation interview.